BH332 10'x10′ Woodsman Cottage Pine B&B
Features
10'x10' Kline dried #1 southern pine B&B cottage with 7' side walls. Honey Teak stain, charcoal shingle. 6' wide double doors with diamond plate and pressure treated ramp, Transom glass above doors, 2 wood sash sliding windows with screens, 2 wood gable air vents, 7/12 roof pitch, 2 gable overhangs, 5/8" exterior garde plywood floor.
---
LOCATION:
Burnt Hills


BUILDING COLOR:
Honey Teak


SHINGLE COLOR:
Charcoal


DOOR:
6'w with diamaond plate and P.T. ramp


STYLE:
7' Woodsman Cottage


TRIM COLOR:
Honey Teak


SIDING STYLE:
Pine B&B Kline dried


WINDOWS:
2- 22"x39" recessed wood sash with screen


SHUTTERS:
No


---
SALES PRICE: $6945.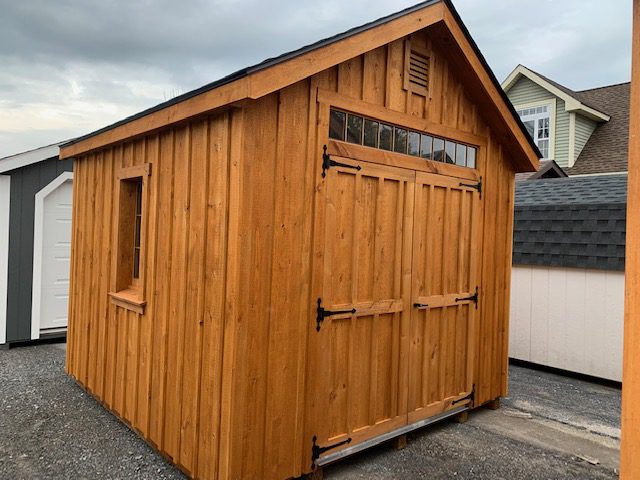 Contact for More Information