Get Answers to Frequently Answered Questions
At Backyard Sheds, we get many questions—and we're happy to answer all of them. We've compiled a list of the most common ones here. If you don't find the answers you need, please get in touch with us.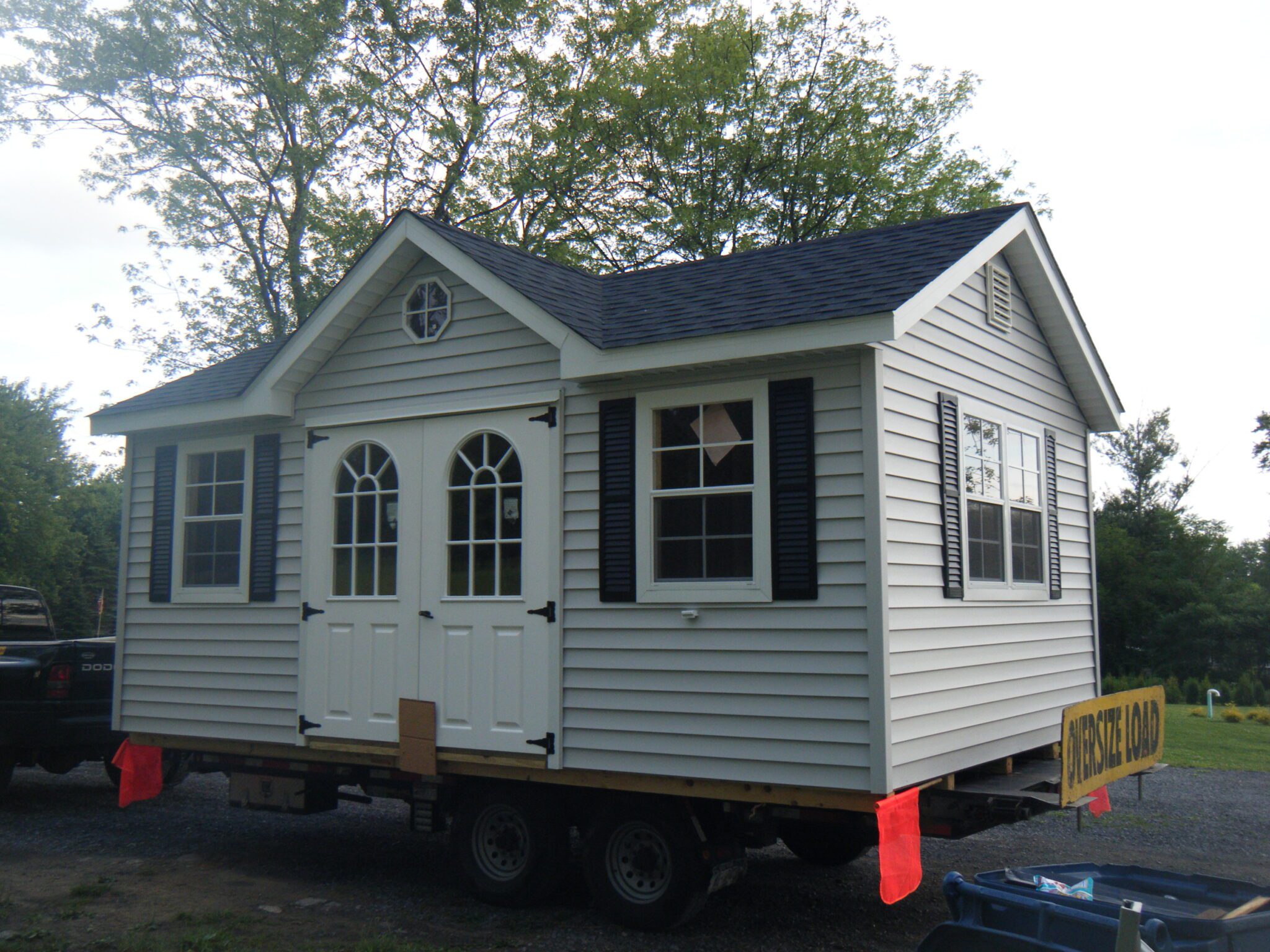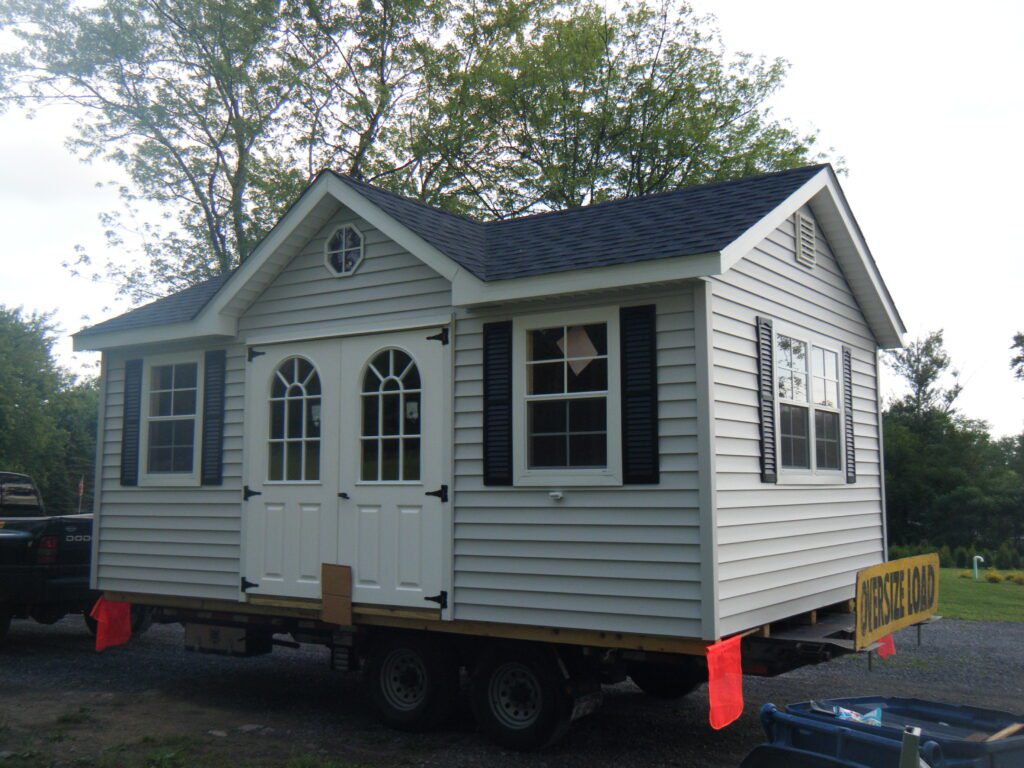 General Shed Questions
---
Where do the sheds come from?
We source from our own Amish builder in Lancaster, PA. We have been together and have enjoyed a great relationship throughout the years. Starting out as a small one man shop we now have 8 employees and family members all working to produce the finest sheds in the industry.
*Our Gazebos, Horse Barns and some specialty items come form other reputable Amish builders.
Can you build a custom shed?
Absolutely! We can design and build any size or style shed you can imagine.
Do I need a permit?
In most cases yes. Town's all have different regulations, contacting the building dept. is the best way of finding out what they will require of you. If buying a shed be sure to explain that it is a moveable structure. Most town's will require insurance certificates from us so we strive to keep them up to date(some towns require new forms for every permit issued). All Permits are the responsibility of the homeowner.
Does putting a shed on my property raise my taxes?
Sheds are movable structures and not permanent so therefore are not usually added to your property value. You will be required to pay sales tax on the purchase but the shed should not add anything to your yearly tax debt.
Is there an additional cost for building on site?
Yes. We will be sending a crew to your site with all the materials needed to assemble your shed. The cost will depend on the size, style, siding choice and location.
Does BYS do site checks?
Yes we can do a site check. We ask you to stake off the area that you want to place the shed and we will stop by to assess your situation. Most times we will call you with our findings to discuss options. If you want to be home during this process we will try to accommodate your request. If a set appointment is required then we require a deposit on your purchase.
Do I have to come to the sales lot to order?
We always suggest coming to the sales lot to see the product 1st hand. Colors are particularly difficult to replicate on line or even in our printed catalog. There are many options to consider and doing so in person is always best. If you do decide to order via email or phone we will do our best to insure your shed is exactly what you are intending to buy.
What are the payment options?
Backyard Sheds accepts cash, checks, credit cards (Visa, MC, Discover & Amex.) We offer bank financing through National Bank of Coxsackie. We also offer Rent to Own option through BLIRentals.com.
Can my shed be moved later on?
Yes, BYS moves sheds all the time. The cost will depend on size of shed, how far it is being moved and the difficulty of the pickup and delivery.
What materials do you use for the floor?
BYS uses PerformMax Tongue and Groove Flooring by Advantech. It will not peel or delaminate even if subjected to moisture or mechanical pressure.
PerformMAX panels are manufactured by blending precisely cut wood strands with our advanced resin technology. The strands are then oriented in a four-layer process in which two core layers are oriented perpendicular to the two surface layers. A very durable resin impregnated overlay is applied to the surface and the combination of strands and overlay are pressed under high heat and pressure to form an extremely durable, smooth-surfaced panel.
What is smartside?
Smartside is manufactured by LP Building Products – LP SmartSide Trim & Siding products are treated with our proprietary SmartGuard® process. With four components of protection, the process adds strength and helps our products withstand impacts, freeze/thaw cycles, high humidity, fungal decay and termites.
Do you remove fences?
BYS does not remove fences unless the customer wants to be responsible for putting the fence back in place. We suggest having your original fence contractor take down the fence and then put it back up when we are done with shed installation. We will coordinate with you as to delivery date and time so you don't have to live too long the fence down. Usually 1 day will do it.
Do you give active military discounts?
BYS appreciates our military, 1st responders and educators. We strive to keep our prices the lowest in the area and our quality at the highest. This does not leave us a lot of room to offer the discounts some of our competitors do since we already offer the best product for the best price. That being sad we will offer active military, police, fire fighters, 1st responders and teachers an additional 3% off our standard pricing. Please show your ID so our sales people can process the paperwork properly.
Delivery and Installation Questions
---
How do you get into my yard?
BYS has the newest equipment to make your delivery as simple and carefree as possible. Our trailer has by far the most advanced features available to the shed delivery industry. BYS will need access to your yard at least 3-4 foot wider than the shed and things like low branches or rock gardens must be taken into consideration. Usually we tell people that if you can drive a pickup truck to the site we can get the shed there. We also can use our EZ mover if we see no other way.
What are the delivery options if a Pickup and trailer can't get in my yard?
Build on site or using a crane to fly it in are both options.
Do you deliver on weekends?
Special arrangements can be made to do a Saturday morning delivery. Wide loads can only be done up to 12pm and so Saturdays fill up quickly. Plan ahead if you want a Saturday morning delivery but also plan on being disappointed if the weather does not cooperate.
How long does it take to get a shed?
Our typical lead time is 4-5 weeks although it varies with the time of year. Your shed is made to order (unless of course you bought out of stock).
What if I have a leach field or septic tank to cross over?
We cross over leach fields and septic tanks regularly and have not caused damage as of yet. The weight of the pickup and trailer are spread out. As with any of our deliveries we try not to deliver when the ground is wet.
What happens if it rains?
BYS deals with the weather every day, we keep close tabs on how much rain we get and how firm the ground is. The customer knows their yard better than we do so we depend on them to let us know if the ground is firm or not when it comes time to deliver. Open communication works best.
I have a fence, now what?
The least expensive option is to have a section of fence taken down. The cost of doing this is usually much less than either the cost of using a Crane or doing a build on site.
Does the shed need to be anchored?
No, that being said some towns do require it. The cost for the anchor kit is $80. and can be done at time of delivery.
What about ruts?
We try our best to not make ruts in your yard. Some soil conditions are more prone to ruts than others. Sandy soil although it drains well will rut easily when making even slight turns. BYS is not responsible for damage to your yard while we are making a delivery. Please read the back of your Sales Order for more information.
Garage Questions
---
What is a modular garage?
A modular garage is a garage with a wood floor, they can be one car or two car. The one car can be delivered fully assembled up to 14 x 32 and a two car is delivered in two pieces and joined together onsite. Both types of modular garages should have a level stone base.
Can I park a car on a wood floor?
Yes. These garages are designed to take the weight of a vehicle, but they are not designed to be an everyday in and out garage. Modular garages work great for storage of autos, motorcycles, 4 wheelers and numerous other things but they are a wood floor and the floor will wear over time. This being said we have modular garages that are 20 years old and still in use. (no jacking up vehicles on a wood floor)
What size garage doors are available?
The modular garages come standard with 9×7 overhead doors, we can squeeze a 7'6″ door in if requested(additional cost). Modular garages come with a 7′ sidewall due to height restrictions for transport thus the limit on the door height.
Do you build custom garages?
Yes! BYS can build any style or size garage you are thinking of. We build in a panelized method which means we will build walls and gables at our production facility and transport all materials to your site. Using this method helps reduce the exposure of materials to weather and keeps build times to a minimum. Our standard build time is 2-3 days for a 2 or 3 car garage.
Who does the foundation and excavating work?
BYS does not do concrete work. We will suggest several contractors who can provide you with estimates. BYS will coordinate with the concrete contractors to insure that the job will be done in a timely manner. We provide prints to the contractors so that everything is done to specifications.
What is the lead time on custom garages?
It will usually take 2-3 months for the process to play out. Design, permits, concrete and then construction. We have a Custom Garage Checklist available that will give you an idea of the steps that need to be taken.
Run In Shed Questions
---
Size of run in needed?
There is no set rule but consensus is 60 – 80 sq. ft. per 1000 lbs of horse. Much depends on the temperament of the horses. Typically a 10 x 20 run in will accommodate 3 average size horses (15 hands), although I have seen as many as 6 in this size structure with everybody happy and dry.
Why is wider better than deeper?
Wider makes it more difficult for a dominant horse to block the entrance to keep out other horses. Also freight cost are lower on 10′ as opposed to 12′ sheds. Another thing you can do to help out the lesser dominant animals is to add on a 4′ high dividing wall.
Can I move my run in?
Sure there are iron hooks on all corners of the shed and it can be move by attaching a chain to each end hook and using a medium to large tractor you can skid them along. If moving them a greater distance, piping should be used to roll them along on.
Can I feed my horses in the run-in?
You should avoid this if at all possible. Horses can get very protective of their feeding site. It would be best if your horses did not associate the run in with feeding time.
How do I pick a site?
First the site should be somewhat elevated either naturally or by using some stone dust. This will keep the interior dry and give it good drainage. Also face the opening away from prevailing winds.
How do you get the run in to my site?
We use a specially designed trailer towed by a 4×4 pick up. Access to your site should be dry and clear, please keep in mind gate and overhead clearances.